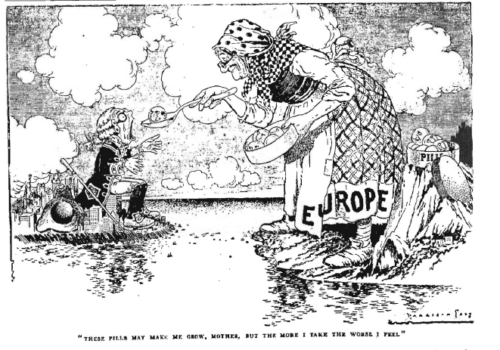 This anti-Jewish-immigration cartoon from Life magazine, October 5, 1911, gives a striking
reminder of how the media have changed after falling under Jewish control. The caption reads "These pills
make me grow, mother, but the more I take the worse I feel."
by Dr. William L. Pierce
FOR THE LAST three decades there has been, in this land of free speech and a free press, an almost universally observed taboo on one topic of overwhelming importance: the Jewish question. Until about the last year or two, in fact, it was hardly permissible to even hint at the existence of such an issue, much less to discuss it openly.
Now the subject has been broached, not by our own people — for whom it has the most crucial importance — but, interestingly enough, by the Jews themselves, who successfully imposed the taboo on it in the first place.
One cannot pick up a major newspaper today without reading about "the Jewish vote" in the recent Presidential election, or which candidate got the most "Jewish money," or which senators are blocking further Russian trade agreements until the Russians make more concessions on "the Jewish issue," and so on.
Growing Anti-Semitism
The Jewish question is phrased in the sharpest terms by the most Jewish of the Jews: the professional Zionists. They talk compulsively, almost hysterically, of rising anti-Jewish feeling in America, of "genocide" in Russia, of growing anti-Semitism in Italy and elsewhere, of the need to protect Jewish interests everywhere. And, contrary to past practice, they talk about these things publicly, where everyone can hear: in newspapers and national magazines, in open campus lectures, with placards in street demonstrations.
Books are in general circulation today, written either by Jews or philo-Semites, which come closer to a frank discussion of the Jewish question than would have been imaginable a few years ago. Even some motion pictures and television programs have ventured onto this formerly forbidden ground.
Deliberate Deceit
All this is not to say that the American people are being given an honest treatment of the Jewish question. There remains more deliberate deceit on this topic than perhaps any other except the Black-White racial issue. But what a revolutionary change from the time when the very existence of the issue itself was denied!
Very recently it was not even permissible to speak publicly of Jews as a distinct racial-cultural-national group, a people with peculiar interests and characteristics distinguishing them from other peoples with different interests and characteristics. One could only speak of "Americans of the Jewish faith," "a person who happens to belong to the Jewish religion," and similar euphemisms. Americans were so thoroughly brainwashed that the mere use of the word "Jew" in public caused embarrassment and discomfort.
Pressures Building
Now that is changing, and it is a good thing. It is not entirely clear why the taboo is being lifted, however. With a little effort the lid probably could have been kept on the subject for another decade, maybe longer, before internal pressures blew it wide open.
One reason may have been that the Blacks simply wouldn't keep their mouths shut. Less disciplined than the White goyim, they kept spilling the beans.
Negro civil rights militants resented having to be told by their Jewish "advisers" and financiers what their every move was to be. Nor did they fail to gain the impression that they were being "used" by the Jews: that Jewish money and brains were not being poured into the civil rights movement out of any love for Blacks but in order to disrupt White society for the Jews' own ends.
"Jew Devils"
And if Black slum-dwellers had not already noticed who it was who collected their rents every month and took what money they had left in exorbitant finance charges, there were plenty of Black nationalist leaders ready to point it out to them. In the Black Muslim theology, "Jew devils" roast in a pit noticeably hotter than that reserved for ordinary "White devils."
White liberals have been conditioned to dismiss as "racism" any criticism of Jews emanating from other Whites. Every four-letter word coming from the mouth of one of the pampered new breed of Negro "intellectuals," however, is pounced on like a pearl of wisdom.
Conditioning Backfires
Gutter-level hate-screeds directed at Whites — trash literature such as Eldridge Cleaver's Soul on Ice, which has been made required reading for millions of White high school and university students by neo-liberal teachers — are accepted as good, noble, and true by Gentile liberal and Jew alike. So, when the same breed of Blacks began expressing their feelings toward Jews, White liberals were obliged to take them seriously. One might say the Jews are hoist on their own petard.
Jews as a Group
It would be unfair to give Black militants all the credit for forcing the Jews to reopen the Jewish question, however. Ever since the Jews so thoroughly trounced the Arabs in the "Six Day War" of 1967 (using American weaponry), they seem to have thrown discretion to the winds. They are so proud of themselves for that bloody bit of banditry that they can't stop boasting about it. It is a triumph which belongs to all Jews everywhere, they feel: to Jews as a group. And it is as a group that they have been talking of themselves ever since.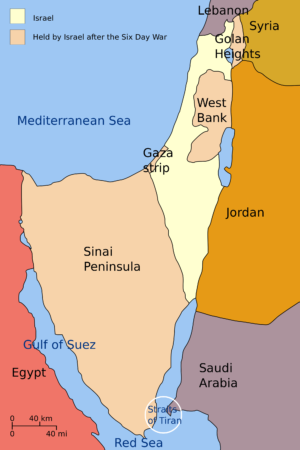 A map depicting the territories gained by Israel in the Six Day War in June, 1967. The Israelis attacked Egypt first, initially claiming that it was Egypt who attacked them first. The area that Israel held more than doubled, putting them in control of more than 1 million Palestinians.
"Just a Coincidence"
This is a development of some importance. Before, if one violated the taboo by, say, grumbling about the Jewish monopoly control of America's information media, one would immediately be put down by the nearest liberal with a little lecture about all those Jews in television and the publishing industry being just a coincidence; about the fact that it might just as well have been Baptists controlling the media if they had worked as hard at it and were as good businessmen as the Jews; about the necessity of judging each Jewish TV mogul as an individual rather than as a Jew.
And if one spoke of "organized Jewry" or hinted of a "Jewish conspiracy," one was instantly consigned to the outer darkness, along with the little old ladies in tennis shoes who see a communist spy under every bed. Nowadays, Golda Meir can talk about "the organized Jewish world" and be quoted by UPI without anyone batting an eyelash.
Something Other Than Americans
So, however it has come about, we have the Jewish question with us today: the general acceptance (even if only implicit) of the fact that Jews are something other than Americans with a different religion; that they are Jews first and Americans (or Canadians, or what have you) only second or third; that they form a coherent group; that they have group interests, Jewish interests; and that those interests are quite often, if not always, at variance with the interests of just about everyone else.
When we couple this fact with the fact that Jews have worked their way in to positions where they control the vital nerve centers of the Western world: public information, education, finance, domestic politics, foreign policy . . . the Jewish question becomes a very real Jewish Problem.
Myths about the Problem
The way in which the American people solve this problem will depend on their understanding of it. At present that understanding is badly clouded, and all the forces of the System are intent on keeping it that way, through the propagation of a set of myths. A few of these myths are:
The Jewish problem has its roots in Gentile bigotry. If it were not for anti-Semitism and the threat it poses to the Jewish people, there would be no Jewish problem. Jews would simply be another ethnic element of the population of any country where they live, just as the Pennsylvania "Dutch" (Germans), Minnesota Swedes, or Boston Irish are ethnic elements of the U.S. population, each with its own peculiarities but without any particular "problem" (e.g., a "Swedish problem").
Anti-Semitism is always a manifestation of either religious intolerance or economic envy. That is, Christian bigots hate Jews because their religion is different, and bigots in general hate Jews because they are successful.
Jews are a "persecuted" people with a tragic history. For thousands of years other peoples have bullied them, massacred them, selected them as "scapegoats" — all through no fault of their own. At present Arab terrorists are persecuting them in the Middle East and the Soviet government is persecuting them in Russia. The persecution they most like to talk about, however, is the one they recently underwent at the hands of the Germans: the "holocaust" of World War II. Because of the "holocaust" and other persecutions, the Jews are especially deserving of our sympathy and consideration.
Jews are a "liberal" people: tolerant, pacifist, equalitarian, open minded, champions of freedom and justice. Their "tragic history" and the suffering they have undergone have given them these liberal traits.
Jews are a specially gifted, artistic race. This is easily seen to be so by the way Jews dominate virtually all cultural fields in America today. There are more Jewish sculptors, painters, novelists, poets, composers, editors, and directors than those belonging to any other ethnic group, WASPs included. In line with this, Jews tend to be more sensitive and intellectual, on the average, than persons of European race.
A Glimpse Behind the Façade
Many and weighty volumes have already been written debunking or supporting these myths. Here we have no room to explore them all. We can only present the briefest of suggestions to the reader that perhaps there is another way of looking at them than the "official" way presented by the System.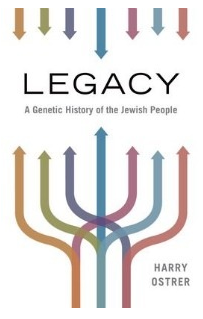 A book published by Harry Ostrer in 2012 which admits that the Jews are a separate race and that understanding their genetic history is crucial to understanding the Jewish identity.
Consider the first myth: namely, that Gentile bigotry is the cause of the problem. It is particularly rewarding to explore this myth together with Myth No. 3, that of a tragic history of thousands of years of persecution.
From the time of the ancient Pharaohs, nearly 4,000 years ago, to the present, everyone — Egyptians, Assyrians, Persians, Medes, Romans, Spaniards, Anglo-Saxons, Cossacks, Poles, Russians, Germans, Arabs — has persecuted and massacred the poor Jews. That's quite an array of various breeds of bigoted goyim.
Everybody Bigoted Except Jews?
About the only conclusion the official myth allows us to draw from this is that bigotry is a universal characteristic of non-Jewish peoples! Furthermore, this bigotry has remained Jew-specific over an immense period of time and among peoples with widely varying cultures.
From the time when the ancient Egyptians booted Moses and his tribe out of Egypt, to the expulsion of the Jews from England in 1290, Germany in 1298, France in 1306, Austria in 1421, Spain in 1492, Portugal in 1496, and so on, to the present day, no one seems to have been able to get along with the Jews for very long. "Persecution" has been the inevitable result.
Is "Persecution" Myth a Racket?
Of course, history is a continuous record of different peoples not getting along with one another: French vs. English, English vs. Spanish, French vs. Germans, Irish vs. English, Poles vs. Russians, and so on. But the English do not consider themselves "persecuted." Nor do the French, the Germans, or any of the other peoples mentioned. Only with the Jews is it "persecution."
Yet, the universal antagonism between the Jews and their various neighbors down through the millennia is undeniable. Could it be — is it remotely possible — that the reason for this lies with the Jews themselves rather than with all their antagonists?
"His Blood Be on Us and on Our Children"
Certainly the myth that the trouble lies with Christian intolerance of "Christ killers" does not hold water. Moslems, atheists, and pagans have had as little use for Jews as the most retribution-minded Christians.
Tacitus, the pagan historian, wrote of the Jews: "When the Assyrians, and after them the Medes and the Persians, were masters of the oriental world, the Jews were deemed the most contemptible of all the nations then held in subjection." And Tacitus' other references to the Jews reveal that he and his fellow Romans shared that contempt, thus giving us four peoples in this one example, with four different religions, unanimous in their verdict on the Jews.
Venom of the Talmud
If that is due to religious bigotry, perhaps the bigotry is the Jews' rather than all the others. This was the conclusion reached by the great Martin Luther, at any rate, who taught himself to read the Hebrew of the Talmud, the basic religious work of Judaism, and was horrified by the venomous outpouring of hatred against all non-Jewish peoples (goyim) he found there.
That leaves the "envy" myth. It is best considered together with the notion that the Jews are especially gifted and talented, and that these special talents have led to their spectacular degree of success, relative to non-Jews.
Masters of Degeneracy
Let us immediately recognize that Jews, as a whole, do possess certain talents to a larger degree than other peoples. No Gentile writer, for example, could have produced a novel quite like Philip Roth's The Breast or Portnoy's Complaint. No Gentile composer could have treated a sacred theme with quite the same grandiose vulgarity as Leonard Bernstein did his Mass. No Gentile producer could have churned out such an appalling box-office success as Joseph Papp's (Papirofsky) Hair.
Kosher Culture
Almost as notable as the proliferation of noisy, flashy Jewish cultural "successes" is the absence of first-rate non-Jewish achievement in the artistic-literary-musical-theatrical field. Where are our late 20th century American Shakespeares, Beethovens, Wagners, Miltons, or Brueghels? There are none in sight.
There are a number of competent Gentile artistic and literary technicians still competing with the Jews, as well as a multitude of hacks, but the balance is shifting steadily toward a totally kosher cultural establishment.
Stifled Soul
Transcendent artistic genius flowers only under certain favorable conditions. These conditions are those which allow latent genius to freely give expression to some aspect of the racial-cultural soul of a people. These conditions are notably lacking in America today.
Without a lengthy elaboration of why they are lacking, a brief and homely excerpt from a recently published and very illuminating book on the Jewish question, Professor Ernest van den Haag's The Jewish Mystique, may serve to suggest that Jewish domination of the Gentile cultural establishment is one of the principal reasons.
Different Outlook
Van den Haag correctly observes that "persons whose outlook and sensibility differ radically from what is current, or acceptable, within the establishment are unlikely to be understood by establishment members. They are automatically relegated beyond the pale. For them to be heard, published, read, understood, or appreciated according to their merits becomes very difficult."
Then he quotes for us the complaint of one Gentile writer:
"'When I was a screen-writer for one of the major studios,' says a former toiler in the vineyards dominated by another Jewish cultural establishment, 'we were talking one day about how a mother would react to finding out her son had cheated in school. When it came my turn to speak, I said what I had to say. The head of the studio looked at me and said, "Mr. O'Connor, no mother would react that way." I told him that I had cheated in school, and that was exactly how my mother had reacted. There was an embarrassed silence for a moment, and then the studio head went on as if I hadn't spoken. My mother had slapped me around a little bit, and then sternly told me to go to the priest to ask God's forgiveness. The response they expected was that the mother would weep a little and take the poor, wounded boy to her breast. That's how they wrote it, and for a moment there, they made me feel as if my mother wasn't a member of the human race.'"
Alien Atmosphere
In other creative fields — science, for example — kosherization has advanced far less than in script-writing, but it is, nevertheless, advancing. No doors are slammed in the faces of talented Gentiles yet, but there is already an alien atmosphere which many sensitive Gentiles find uncongenial.
Perhaps it is in the business-professional world that the pattern is clearest. In most areas — retail trade, banking, dentistry, and law are examples — Gentiles are still in strong contention, although the Jewish element is gaining in influence and degree of domination.
In these areas Gentiles are highly conscious of their Jewish competitors, and whenever this consciousness manifests itself in an anti-Semitic manner the "envy" myth is immediately invoked to explain the anti-Semitism.
Organized Takeover
There are other areas, however, where Gentiles are no longer in contention. Whole industries and professions have been literally taken over by the Jews.
The garment industry; the wholesale news distribution industry, which supplies magazines and paperbacks to newsstands; the motion-picture industry; and a score of others are almost totally Jewish in ownership and management. Psychiatry is, for all practical purposes, a Jewish profession.
A Gentile who attempts to trespass on one of these kosher preserves finds practically insurmountable obstacles in his path. He is immediately made to feel that it is he, not the Jews, who is an alien. He does not speak the same language, he does not know the customs, he does not belong.
Perhaps, then, we ought to consider that when a Gentile retail merchant, say, makes an unkind remark about his Jewish competitors he is motivated by something besides envy. Perhaps he has a faint, subliminal premonition of the situation the Gentile garment manufacturer of half a century ago found himself in as his Jewish colleagues slowly but surely forced him to the wall.
And we might also ask ourselves: Is it "talent" which is solely responsible for this burgeoning Jewish success — or is it also something else?
Jews and Liberalism
Finally, let us look at Jewish "liberalism." It is certainly true that Jews have been overwhelmingly prominent in virtually every "liberal" manifestation of the past 200 years, from the great liberal bloodletting of the French Revolution through the bolshevization of the Russian people and the building of the Negro rights movement in America.
Jewish university students were more numerous among the "freedom riders" of a decade ago than any other ethnic group.
Jewish students and Jewish lawyers, in the role of "pacifists," have been the backbone of the home-front sabotage effort against the U.S. armed forces throughout the war in Vietnam.
Jewesses have been in the van of the crusade for women's "liberation" since the inception of that rather unnatural movement.
In general, any group, movement, or political organization in America today agitating for "peace," "equality," "freedom," or "justice" can be counted on to have a disproportionately large number of Jews among its adherents.
But are Jews really "liberals" — or is "liberalism" merely a useful mask for them to wear in their dealings with other peoples? For an answer, look at the Jews where they feel no need for a mask: occupied Palestine.
In America, Jews, through their control of the media of mass propaganda, have succeeded in making millions of White people feel guilty because our ancestors dispossessed the Indians and exploited Black slaves. Do the Jewish masters of Palestine, or their fellow Zionists in America, feel guilty because they have massacred, plundered, and dispossessed the Palestinians?
In America, Jews have been among the shrillest critics of our prisons and the staunchest supporters of prison rioters, such as those at Attica. What, then, is their excuse for the ghastly torture chambers and concentration camps they operate in Palestine in order to keep their restless Arab subjects in line?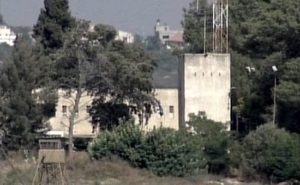 Camp 1391, a prison in Israel which supposedly holds the most dangerous and high-risk inmates in the country. That fact that it existed wasn't discovered until 1993, by accident, and it has been airbrushed out of aerial photos. Inmates have reported being lied to about where they were and being raped by men and/or sticks. Solitary confinement in rarely cleaned and almost pitch black cells is common.
Goyim Not Equal
In America, Jews preach "equality" for all peoples, religions, and races. Why, then, are Jews the only first-class citizens in Israel?
In America, Jews have been predominantly "pacifist" and anti-militarist (except during World War II!). How do they reconcile this with their enthusiastic support of military aggression in the Middle East?
In America, Jews have been the most vehement denouncers of "McCarthyism" and other forms of "witch-hunting." People who made the "mistake" of joining the Communist Party 20 or 30 years ago should not be penalized for that mistake today, they say. Why, then, do they maintain in Tel Aviv massive files of dossiers on former German National Socialists and direct a worldwide effort to harass them, hound them from their jobs, smear them in the press, even kidnap and murder them? That is, why do they preach to us forgiveness of our sworn enemies while they preach vengeance against theirs?
There is no mistaking the reality of liberalism, or, more correctly, neo-liberalism. Millions of Americans are genuinely infected with it. It is a virus which is ravaging our people and destroying our nation.
And there is no mistaking the fact that Jews are bearers of this virus. But a little observation and reflection suggest that the disease itself strikes only men of the West and that Jews have a natural immunity to it.
Executing the Solution
As already mentioned, the Jewish problem is one of great complexity and subtlety, and one can hardly hope to explore it, much less present any very confident solution, in a page or two. Nevertheless, it is a problem which must be faced and solved. The future of our race and our nation depend upon our finding — and executing — the correct solution to it in the very near future.
The only way we can hope to find that correct solution is first to clear away the smokescreens and lies which have been propagated solely to hide it from us.
The reader with the independence of mind and strength of character to question the official myths must not stop here. He must take upon himself the responsibility of fully informing himself, so that he can intelligently discharge his obligations as a patriot and a member of his Western racial community.
Read them, and then act!
* * *
From Attack! No. 16, 1972 transcribed by Anthony Collins and edited by Vanessa Neubauer, from the book The Best of Attack! and National Vanguard, edited by Kevin Alfred Strom